---
AUSTRALIEN: NEW SOUTH WALES
AUSTRALIEN: QUEENSLAND
AUSTRALIEN: TASMANIEN
AUSTRALIEN: VICTORIA
BOSNIEN-HERZEGOWINA
KANADA: ALBERTA
KANADA: BRITISH COLUMBIA
KANADA: NOVA SCOTIA
KANADA: ONTARIO
KANADA: SASKATCHEWAN
KROATIEN
DÄNEMARK
FINNLAND
GEORGIEN
DEUTSCHLAND
IRAN
JAPAN
MONTENEGRO
PORTUGAL
SLOWAKEI
SPANIEN
SCHWEDEN
VEREINIGTE STAATEN: KALIFORNIEN
VEREINIGTE STAATEN: MICHIGAN
VEREINIGTE STAATEN: WASHINGTON
VEREINIGTE STAATEN: WYOMING
Humboldt Redwoods State Park, Kalifornien, USA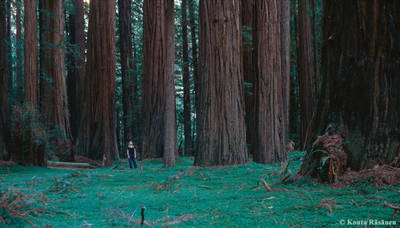 Dieser Park enthält den größten zusammenhängenden unberührten Sequoia sempervirens (Küstenmammutbaum) -Wald 1 und das höchste Kronendach der Welt 2 . Die Mehrzahl der höchsten bekannten Bäume wachsen in diesem Park. Stratosphere Giant wird mit 113,61 m nur von zwei Bäumen im Redwood-Nationalpark überschritten 3 . Die Wälder auf alluvialen Ebenen sind fast reine S. sempervirens -Wälder. Auf den Hängen ist auch Pseudotsuga menziesii var. menziesii (Küsten- Douglasie) reichlich. Die Baumidentifikation ist einfach. Die Vegetation unterscheidet sich wesentlich von der in den Küstenwäldern Nordkaliforniens (siehe
Prairie Creek Redwoods State Park ) , wobei die letzteren ökologisch ähnlicher mit den gemäßigten Küstenregenwäldern Oregons und Washingtons sind 4 . Humboldt Redwoods State Park liegt 20 bis 30 km von der Küste entfernt und damit ist das Klima trockener. Die jährliche Niederschlagsmenge in den Tälern beträgt 1460 mm und die Jahresmitteltemperatur 14°C 5 . Das Feuerintervall war vor der Ankunft der Europäer wahrscheinlich <100 Jahre 6 . Heute werden die Wälder künstlich gebrannt zur Wiederherstellung des ursprünglichen Feuerzykluses 7 . Zwar wurden die meisten Waldbrände vermutlich von den Ureinwohnern verursacht 8 , somit ist die ökologische Relevanz der Verbrennung etwas unklar. S. sempervirens ist mit seiner dicken feuerfesten Rinde und für einen Nadelbaum seltenen Fähigkeit zur Bildung von Stockausschlägen den Waldbränden gut angepasst 9 .
70 km 2 des Parks sind von Urwald bedeckt. Das Wandern abseits der Wanderwege ist nicht schwer auf den alluvialen Ebenen, wenn man nicht versucht, über die umgestürzten Stämme zu klettern. Die Farnschicht ist an manchen Stellen hoch und dicht. Leider gibt es einen Weg durch die besten Bestände. Das Zelten ist nur auf den gekennzeichneten Plätzen erlaubt.
Referenzen :
1 Evarts & Popper (Ed.) (2001): Coast Redwood, A Natural and Cultural History. Cachuma Press.
2 Van Pelt (2001): Forest Giants of the Pacific Coast. Global Forest Society.
3 http://www.landmarktrees.net
4 Sawyer, J. O. et al. (2000): Characteristics of Redwood Forests. In Noss, R. F. (Ed.): The Redwood Forest . Island Press.
5 Van Pelt & Franklin (2000):

Influence of canopy structure on the understory environment in tall, old-growth, conifer forests . Canadian Journal of Forest Research 30 , 1231-1245.
6 Stuart, J. D. (1987): Fire history of an old-growth forest of Sequoia sempervirens (Taxodiaceae) forest in Humboldt Redwoods State Park, California. Madrono 34 : 128-41.
7 Thornburgh, D. A. et al. (2000): Managing Redwoods. In Noss, R. F. (Ed.): The Redwood Forest . Island Press.
8 Lorimer, C. G. et al. (2009):

Presettlement and modern disturbance regimes in coast redwood forests: Implications for the conservation of old-growth stands . Forest Ecology and Management 258, 1038–1054.
9 Sawyer, J. O. et al. (2000): Redwood Trees, Communities, and Ecosystems: A Closer Look. In Noss, R. F. (Ed.): The Redwood Forest . Island Press.
Offizielle Website:
http://www.parks.ca.gov/default.asp?page_id=425
Sequoia sempervirens (Küstenmammutbaum) -Wald auf Lower Bull Creek Flat, Meereshöhe 50 m.

Sequoia sempervirens (Küstenmammutbaum) -Wald, Meereshöhe 75 m.

Großer Sequoia sempervirens (Küstenmammutbaum) mit Namen "Giant Tree".

Gefallener Sequoia sempervirens (Küstenmammutbaum) -Stamm und benadelte Äste.