---
Borjomi Strict Nature Reserve, Georgia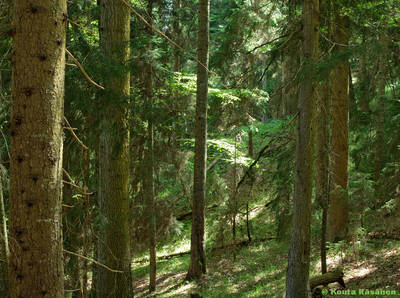 Together with adjacent Borjomi-Kharagauli National Park (588 km2), this reserve (277 km2) is one of the most visited nature destinations of Georgia – nevertheless the hiking trails are not crowded. The reserve was established as early as 1929, the national park only in 1996.
Unfortunately, on numerous Internet sites, e.g. European Wilderness Society1, it is given to understand that the nature reserve and the national park form a pristine wilderness. However, it can be seen even from satellite images that there is a dense network of small roads used by local farmers, and in the valleys and on the ridges non-natural meadows are still grazed. There are also cut stumps along the tracks. Actually, it is strange that all this is possible in a strict nature reserve! However, the steep slopes and gullies further away from any track are close to their natural state.
The reserve is located in a rather dry region. Annual precipitation varies remarkably but on the lower slopes is significantly below 1000 mm/v 2. Altitude ranges from approx. 950 m to approx. 2400 m. The slopes are steep.
The tree flora is slightly richer than in western Europe in similar sites but lower than in eastern North America and especially eastern Asia3. Identification is complicated by the fact that there is no good guide unless one can read Georgian or Russian. One possibility is to collect identification information and images from the Internet in advance. A check-list can be compiled from at least two sources 4 5. Most species should not offer difficulties if you have familiarized yourself with the possible species in advance but numerous Crataegus species, for example, may be very difficult to identify (you can try with "Revision of Crataegus Sect. Crataegus and Nothosect. Crataeguineae (Rosaceae-Maloideae) in the Old World" by Christensen).
Picea orientalis (Caucasian spruce),
Pinus sylvestris (Scots pine) and
Carpinus betulus (European hornbeam) dominate on the northern lower slopes. The tallest tree of the region,
Abies nordmanniana subsp. nordmanniana (Nordmann fir or Caucasian fir), grows particularly in protected sites. A. nordmanniana becomes taller in moister areas in the Russian western Caucasus and Abkhazia (see
Caucasus Nature Reserve and
Buynyy Natural Monument); here it reaches slightly over 50 m.
Quercus petraea subsp. iberica (sessile oak),
Carpinus orientalis (oriental hornbeam) and P. sylvestris dominate on dry southern slopes. The uppermost forest zone is occupied by krummholz mainly consisting of
Betula pubescens var. litwinowii (Caucasian downy birch) and
Sorbus aucuparia (European rowan). The forest floor is fairly open particularly in coniferous forests.
The reserve has two hiking routes. Staying overnight is allowed in a hut located at 1800 m elevation or in your own tent at the hut.
References:
1 http://wilderness-society.org/
2 Schuerholz, G. (2003): Borjomi-Kharagauli National Park Management Plan. The State Department of Protected Areas, Nature Reserves and Hunting Economy.
3 http://www.ents-bbs.org/viewtopic.php?f=144&t=6804
4 http://www.emplantbase.org/home.html
5 Schmidt (2002-7): Bäume und Sträucher Kaukasiens. Mitt. Dtsch. Dendrol. Ges. 87-92.
Official site:
http://apa.gov.ge/en/protected-areas/cattestone/bordjom-xaragaulis-erovnuli-parkis-administracia