---
Tarkine Wilderness, Tasmania, Australia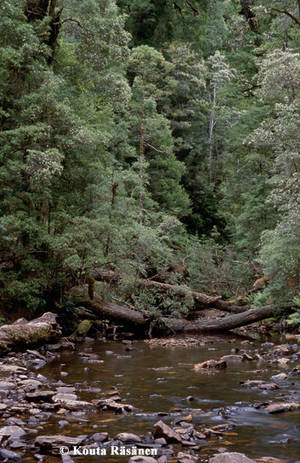 The majority of this great and valuable forested wilderness is unfortunately still formally unprotected and currently facing a new threat from mining 1 . It is mostly untouched and has never even been settled by aborigines 2 . In contrast to the warmer parts of Australia, the aborigines avoided rainforests in Tasmania 3 . Large areas of virgin temperate broadleaf forest are so rare on the global scale that the whole Tarkine Wilderness should be protected as a national park as soon as possible. To date, only Savage River National Park (180 km 2 ) has achieved formal protection.
In contrast to southwestern Tasmania, fertile soils are common in Tarkine. Annual precipitation is 1600-2000 mm 4 . Therefore, cool temperate rainforests are common and well developed. Their most important tree species are
Nothofagus cunninghamii (myrtle beech),
Atherosperma moschatum (southern sassafras) and
Eucryphia lucida (leatherwood). The tallest of them is N. cunninghamii (the tallest measured specimen is 46.7 m 5 ); it is generally dominant on the fertile soils. In the Tarkine wilderness area, the only conifer is
Phyllocladus aspleniifolius (celery-top pine) 6 ; it is often a dominant of the rainforests on the poorest soils 7 but on fertile soils it cannot compete with the angiosperms. A. moschatum is the only shade-tolerant tree species, but it is seldom able to gain dominance even with long time and on fertile soils 8 . Reasons include drought caused by slow root penetration of the soil by the young seedlings 9 and vulnerability to herbivores 8 . On the patches of poorer soils
Anodopetalum biglandulosum (horizontal) often occupies the understory forming an impenetrable tangle of twisted trunks. Tree species diversity is relatively low and most species are fairly easy to identify. Tarkine contains 1800 km 2 of rainforest and additionally 400 km 2 of Eucalyptus forest 10 (especially
E. obliqua (messmate stringybark) and
E. nitida (Smithton peppermint)), which is not considered rainforest in Australia despite equal precipitation 3 . The undemanding and variable E. nitida , growing on poor soils as a shrub-like low tree, becomes a big tree on Tarkine´s fertile soils 11 .
There is almost no infrastructure, and marked trails exist only at the edges of the wilderness. If you intend to go off-trail hiking, you first have to find access to the area: many of the old forestry roads running to the edges of Tarkine are completely overgrown, and you also have to be able to find river crossings. Walking is easy in well developed rainforest on level terrain because the understory is open due to the dense canopy. However, there are also plenty of steep slopes and patches of more open forest.

References:
1 http://www.tarkine.org/
2 Jackson , W. (2005): Palaeohistory of vegetation change: The last 2 million years. In Reid, B., Hill, R., Brown, M. & Hovenden, M. (eds.): Vegetation of Tasmania , pp. 64–88. Australian Government, Canberra.
3 Adam, P. (1992): Australian Rainforests. Oxford University Press.
4 Jackson , W. (2005): The Tasmanian Environment. In Reid, B., Hill, R., Brown, M. & Hovenden, M. (eds.): Vegetation of Tasmania , pp. 11–38. Australian Government, Canberra.
5 Forestry Tasmania, e-mail (2010).
6 Kirkpatrick, J. B. & Backhouse, S. (2004): Native Trees of Tasmania. Pandani Press.
7 Gibson, N., Barker, P. C. J., Cullen, P. J. & Shapcott, A. (1995): Conifers of Southern Australia. In Enright, N. J. & Hill, R. S.: Ecology of the Southern Conifers . Smithsonian Institution Press.
8 Read, J. 2005: Tasmanian Rainforest Ecology. In: Reid, B., Hill, R., Brown, M. & Hovenden, M. (eds.): Vegetation of Tasmania , pp. 160–197. Australian Government.
9 Read & Hill (1988): The Dynamics of Some Rainforest Associations in Tasmania. Journal of Ecology (1988), 76 , 558–584.
10 Pullinger, P., Tarkine National Coalition, pers. comm. (2006)

11 Boland et al. (1985): Forest trees of Australia. CSIRO.
Video clip:
http://www.youtube.com/watch?v=b9ZPzl5bdoM