---
Kings Canyon National Park, California, USA - Redwood Mountain Grove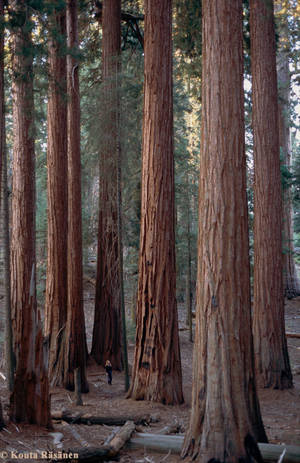 Redwood Mountain Grove is the largest (15 km 2 1 )
Sequoiadendron giganteum (giant sequoia) grove. It is located on Redwood Mountain and adjacent areas in Kings Canyon National Park on the western slopes of the Sierra Nevada at an altitude of 1600-2000 metres. Sequoiadendron grows here and there as a subordinate tree. Only in a few places is it the dominant species; one such stand is Sugar Bowl Grove which is a part of Redwood Mountain Grove located on Redwood Mountain. On the opposite slope east from Redwood Mountain but still within the Redwood Mountain Grove, stands the second tallest (94.9 metres 2 ) known Sequoiadendron tree, as well as a large well-known Sequoiadendron individual, Hart Tree, which once was thought to be one of the very largest. Here, Sequoiadendron is abundant in all age classes, contrary to most other groves, where the Sequoiadendron population is expected to dwindle in the future due to lack of young trees 1 .

Tree species diversity is low and most species are easy to identify. The main tree species are
Abies lowiana (California white fir),
Pinus lambertiana (sugar pine),
P. ponderosa (ponderosa pine) and
Calocedrus decurrens (California incense-cedar). The frequent-fire regimes (mean fire intervals were 2 to 25 years) before the late-19 th century maintained relatively open groves dominated by Sequoiadendron and Pinus spp., but more than 100 years of fire suppression has resulted in an extensive increase in the density of shade-tolerant A. lowiana 3 . Today, prescribed burns are used to restore and maintain the forest in a more natural state.

Annual precipitation is approx. 1000 mm 4 ; it is almost exclusively in the form of winter snow; by late summer the forest floor has turned to dust underfoot. Traces of earlier human activities can be seen in places and cattle sometimes wander onto Redwood Mountain from adjacent farmlands. Off-trail hiking is generally easy but on dry slopes the vegetation is more shrubby so walking is more difficult. Dispersed camping is allowed.
Kings Canyon National Park is adjacent to
Sequoia National Park .
References:
1 Hartesveldt, R. J. et al. (1975):

The Giant Sequoia of the Sierra Nevada . U.S. Department of the Interior National Park Service.
2 http://www.landmarktrees.net/
3 Kaufmann, M. R., Binkley, D., Fulé, P. Z., Johnson, M., Stephens, S. L. & Swetnam, T. W. (2007):

Defining Old Growth for Fire-adapted Forests of the Western United States . Ecology and Society 12 (2).
4 Sillett, S. C. et al. (2015): How do tree structure and old age affect growth potential of California redwoods? Ecological Monographs 85 :181–212.
Willard, Dwight (2000): A Guide to the Sequoia Groves of California. Yosemite Association / Heyday Books.
Official site:
/3a52f5c2a5d8278745c3f961cd95f2d6/seki
Dry slope with Pinus lambertiana (sugar pine, left), Pinus ponderosa (ponderosa pine) and Quercus kelloggii (California black oak, extreme right).