---
Cape Breton Highlands National Park , Nova Scotia, Canada
This park (950 km 2 ) consists of a high plateau at an elevation of 400-500 metres and bordering slopes, valleys and ocean shores. The forests can be called boreal rainforests. Annual precipitation is 1400–1800 mm but the climate is more continental than on the west coasts of North America and Europe. Forest fires are very rare, insect epidemics, fungal diseases and wind being the major disturbance agents. 1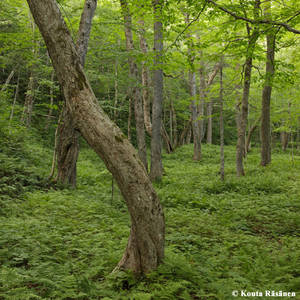 In the sheltered low elevation valleys, forests are mainly beautiful broadleaf forests. Nowadays, their dominant tree species are
Acer saccharum (sugar maple) and
Betula alleghaniensis (yellow birch). The latter is not particularly shade tolerant but maintains its co-dominant position by its rapid growth rate in canopy openings 2 . However, according to old studies,
Fagus grandifolia (American beech) has been the dominant before 3 . Now, F. grandifolia saplings may be plentiful in places, but Nectria (beech bark disease), a fungus native to Europe accidentally introduced to Nova Scotia in the early 1900s, kills F. grandifolia before it becomes a large tree. A 16 km 2 area in the Grande Anse Valley has no logging history 4 ; in the other valleys, there has been logging and even farmlands. The forests are not tall: in the Grande Anse Valley canopies reach 20-27 metres. Tree species diversity is relatively low and most species are easy to identify. Walking is easy.
In comparison with the above-mentioned valleys, the high plateau is like a different world: flat northern boreal forest and bog country. The dominant tree species are
Abies balsamea (balsam fir) and
Picea glauca (white spruce). They reach heights of 10-13 metres. The forest is very open and often boggy. True bogs and fens are also common, often with
Picea mariana (black spruce) and
Larix laricina (tamarack larch). On the upper valley slopes
Betula papyrifera (paper birch) is common. The high plateau is very wild with no discernible human traces. Hiking there can be hard, due to the dense shrub layer; particularly shrub-like P. mariana on the bogs hinder progress.
A major problem in the park is moose over-population. Locally the moose was hunted to extinction by the beginning of the 1900s, but was re-introduced in the late 1940s. The wolf was also hunted to a local extinction, but is still missing from the ecosystem. Hunting is not allowed in the park area, so the moose population has grown continuously and was approx. 2000 in 2010. Consequently, forest regeneration is severely disturbed, and tree saplings are absent in many areas.
With the exception of certain strictly protected areas (like Grande Anse Valley), camping is allowed in the forests, but requires a permit from park wardens.
References :
1 Clayden, S. R., Cameron, R. P. & McCarthy, J. W. (2011): Perhumid Boreal and Hemiboreal Forests of Eastern Canada. In DellaSala, D. A. (ed.): Temperate and Boreal Rainforests of the World . Island Press.
2 Woods, K. D. & Whittaker, R. H. (1981): Canopy-Understory Interaction and the Internal Dynamics of Mature Hardwood and Hemlock-Hardwood Forests. In West, D. C., Shugart, H. H. & Botkin, D. B. (eds.): Forest Succession. Concepts and Application . Springer.
3 Mosseler, A., Lynds, J. A. & Major, J. E. (2003):

Old-Growth Forests of the Acadian Forest Region . Environmental Reviews , Vol. 11 , Suppl. 1, pp. S47-S77.
4 Stewart, B. J. et al. (2003):

Selected Nova Scotia old-growth forests: Age, ecology, structure, scoring . The Forestry Chronicle , Vol. 79 , No. 3
Official site:
http://www.pc.gc.ca/eng/pn-np/ns/cbreton/index.aspx