---
Biogradska Gora National Park, Montenegro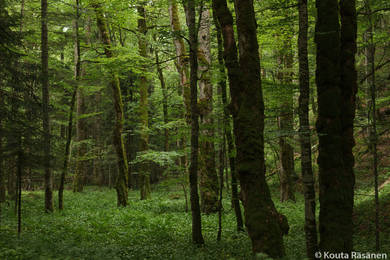 The park's (54 km²) virgin forest reserve (16 km²) consists of a mountain valley. There is a small lake, Biogradsko Jezero, in the valley bottom (elev. 1093 m). The area has been protected since 1878, when the forest was already old. Annual precipitation is quite high, approx. 2 200 mm 1. In this "Illyric beech forest zone", there is no drought period despite the Mediterranean rainfall distribution2.
According to the national park information1, 86 tree species have been found in the park but this is a translation error: they mean woody species including shrubs. The tree flora consists mainly of species common in Central Europe. Most are easy to identify, the most common species being
Fagus sylvatica (European beech),
Abies alba (European silver fir) and
Picea abies (Norway spruce), on the valley bottom and around the lake also
Acer pseudoplatanus (sycamore maple). At the end of the lake around the delta of an inflowing river (Biogradska Rijeka), there is lush moist forest composed mainly of
Fraxinus excelsior (European ash) and
Alnus incana subsp. incana (grey alder). Between this moist forest and the lake there is a still wetter area, seasonally flooded each year, with stands of
Salix alba (white willow), which tolerates periods of up to 3-6 months flooding annually; its seeding coincides precisely with the sinking of water levels in the summer, allowing seedlings to become established on the exposed land3.
The tallest tree Jeroen Philippona*, Michael Spraggon and I

measured with Nikon 550 instruments in 2012 was P. abies 59 m.

Camping is allowed only at the official campsite, which is rather noisy at times. There are also a few cabins, which cannot be reserved in advance.
* Jeroen's www-site:

bomeninfo.nl/english1.htm
References:
1 Dožić, Bulatović & Vincek (1997): National Park Biogradska Gora. National Parks of Montenegro.
2 Mayer, H. (1986): Europäische Wälder. Gustav Fischer Verlag.
3 Schirmer, R. & Stimm, B. (2006): Salix alba. In Schütt, P. et al.: Enzyklopädie der Laubbäume, pp. 535-550. Nikol.
Official site:
nparkovi.me/np-biogradska-gora/